Solar experience for students
Gift students a Climate School experience day and help them install their own solar power system at their school!
Donate the amount of your choice
Support MYBLUEPLANET with a one-time donation.
In a nutshell
With your support, you make it possible for students in the Climate School program to experience
the construction of a photovoltaic system on their own school roof first hand.

an action-oriented transfer of knowledge about the generation and use of renewable energies through the installation of solar panels and participation in various workshops.

an enriching exchange with solar experts as well as insight into a professional field with a great shortage of skilled workers.

the sensitization for mindful handling of electricity during an energy crisis.

a successful learning process with head, heart and hand.
We want to sensitize the young generation for renewable energies and educate them in the field of electricity and the current shortage. In order to achieve a sustainable change of behavior in their daily activities, we choose the educational approach "head, heart and hand" according to Pestalozzi. Through independent participation and cooperation with solar experts, the students learn about complex topics in a tangible way. This knowledge is a prerequisite for making conscious decisions in everyday life.
In addition to the installation, the classes go through interactive workshops where they examine electricity consumption in everyday life and acquire the theoretical knowledge of their new achievement.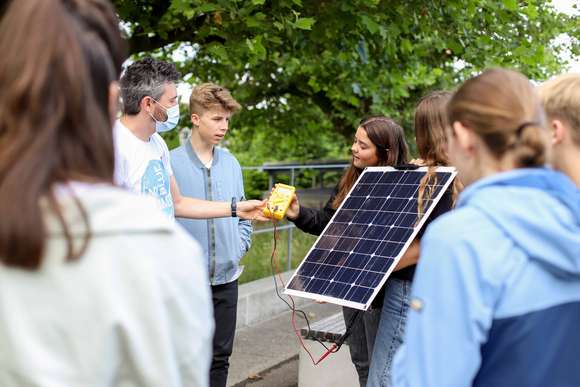 Why do we need experience days?
Helmet on, gloves on and then climb onto their own school roof to install their own solar power system - that's what students experience in MYBLUEPLANET's Climate School program. Once at the top, they are allowed to install, wire and screw the modules under the guidance of solar professionals until the roof shines in blue-black.

There is a shortage of skilled workers on Swiss roofs. To counteract this, the Swiss government has launched a new apprenticeship program for solar installers. As a support, the program Climate School offers a framework to introduce this occupational field to the young generation with a high practical relevance. Vacant apprenticeship positions have already been filled several times as a result of the construction site day. The students not only learn about a sustainable energy source, but also acquire important social skills for their future, such as teamwork, communication skills and initiative.

The meeting is always enriching for both sides: "Seeing how the children participate, enjoy the project and are committed to it gives me a lot in return," confirms Werner Leu, solar installer at Baumann Elektro.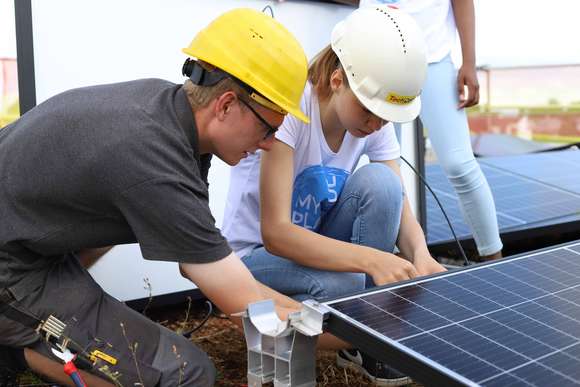 Your impact: Empowering young people and raising awareness for climate protection
So that we can continue to inspire and sensitize the young generation for climate protection, we need you! Give students an experience day in the area of solar energy worth around CHF 5,000 or CHF 25 per student. We have already built 25 solar plants and want to build 30 more in 2023, reaching around 1'000 additional students who can contribute to the energy transition of their schools.

Learn more about the student working on a solar assembly team here
We use various measures such as cookies to improve the user experience and ensure optimal service. By clicking "Accept All", all of these measures will be permitted. By clicking "Accept Selection", only the selected measures will be permitted. Detailed information can be found in our privacy policy..
Required
All measures that are necessary to ensure the core functions of the website, including security-related measures or those that facilitate quick access to our services.
Performance
All statistical and analytical measures to improve website performance, including cookies that measure how often users visit the website and which services they use.
Comfort
All measures that make it more comfortable to use the website, including cookies that improve the user experience by keeping track of which areas of the website have already been visited.