Further development of our ClimateActions app
We have many ideas how our app can encourage even more people to live a climate-friendly life. Support us!
Donate the amount of your choice
Support MYBLUEPLANET with a one-time donation.
In a nutshell
With your support you enable
the implementation of new functions on the app.
improved design and user guidance of the app.
the establishment of new challenges and ideas via the app.
the maintainance and administration needed so that the app runs smoothly.
the management of technical tasks and challenges.
Our ClimateActions app challenges people in a playful way to make their everyday life more climate-friendly. By completing climate protection challenges, people collect points and can compete with others - in teams or alone. The aim is to show how simple a climate-friendly everyday life can be. We have many more ideas for our app and need support in developing it further and helping even more people to act in a climate-friendly way.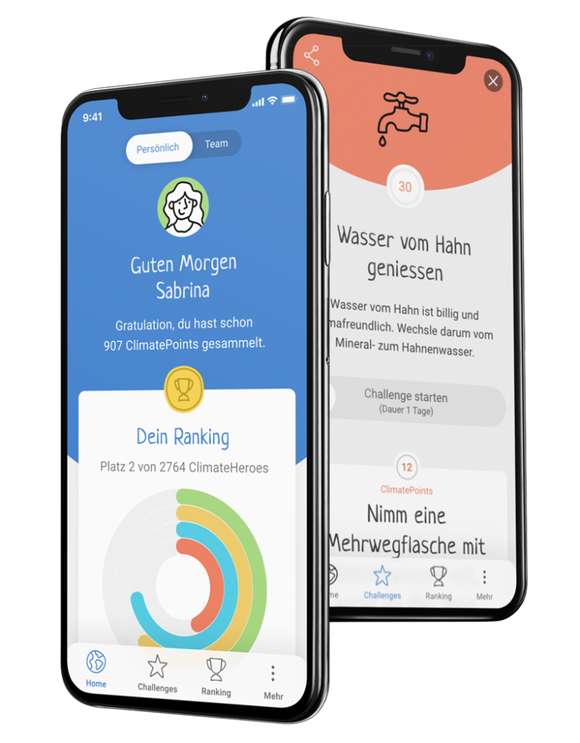 Why is the ClimateActions app needed?
It is often the little things that have a big impact. This also applies to our everyday lives and the decisions we make. Our lifestyle is characterized by constant availability, technological progress and convenience. Our consumption of resources has gotten out of hand at the expense of our home planet, which sooner or later will also become our problem. Protecting the climate doesn't always have to mean giving something up or expending a lot of effort. The ClimateActions app playfully presents many little things we can change in our everyday lives to make a big difference. The challenges serve as food for thought for small actions in everyday life that do good for the earth.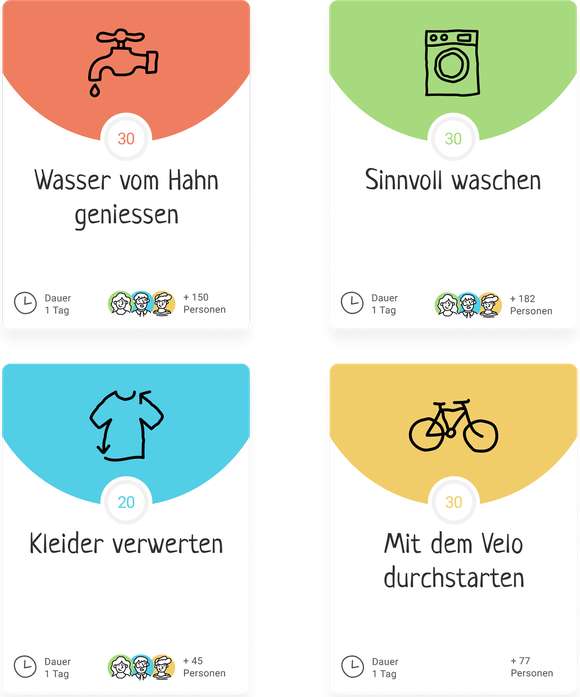 Your impact
Your support makes it possible for us to implement improvements, new ideas and expansions and thus raise people's awareness for a climate-friendly lifestyle. At the same time, you draw attention to the fact that climate protection does not always have to be complicated and strenuous. Thanks to your support, it will be possible for everyone to make climate-conscious decisions by simply using the app in everyday life or in business situations.
Learn more about the app here.
Your donation will be used for the chosen purpose whenever possible. If MYBLUEPLANET urgently needs funds in another area, your donation can be used for that as well.This allows us to use your donation optimally for climate protection in Switzerland.
We use various measures (e.g. cookies) to improve the user experience and to ensure an optimal service. By confirming «Accept All» you agree to the use of all cookies and measures. By clicking on the button «Accept selection» you only agree to the measures selected.You can find further measures under Privacy Policy.
Required
These measures are necessary to perform the core functions of this website, such as security-related functions. These measures allow us to see if you wish to remain logged into your profile in order to provide you with quick access to our services.
Performance
With these cookies, we measure, for example, how often users return and which functions they use.
Comfort
We use these cookies to make your use of the web services more convenient. For example, we remember which areas of the website you have already visited and so can help to improve the user experience.